When someone asks me what the bad Japanese custom is, I say "The way to drink alcohol" right away. Japanese drinking style is so awful, so now taking a picture of a Salaryman who has fallen to the ground is already a typical tourist act. However, do you know that recently young Japanese people don't usually drink alcohol? Today I'm talking about the relationship between the Japanese and alcohol.
Reducing alcohol consumption
Well, because of the image of a typical salaryman, many foreigners believe that Japan is a country where there are many alcohol addicts. But according to a ranking of countries with alcohol addicts that the UN investigated, Japan is ranked 136th, this figure was unpredictable for you, wasn't it?
世界・アルコール依存症者の割合ランキング – 世界ランキング
Although some Japanese are like that but Japan is very healthy about the problem of alcohol.
世界に誇る日本の泥酔サラリーマン pic.twitter.com/LIFPa8dwrp

— 海外B級ニュース (@gakkari_club) January 28, 2017
For 20 years young Japanese people went to stop consuming alcohol.
The chart below explains how many percent of Japanese people, depending on their age, are in the habit of drinking alcohol.
The color blue indicates men, and red indicates Japanese women. So 20 years ago more than 30% of men of 20-29 years drank alcohol but now the ratio is only 10%. Therefore, being used to drinking alcohol is already a minority hobby.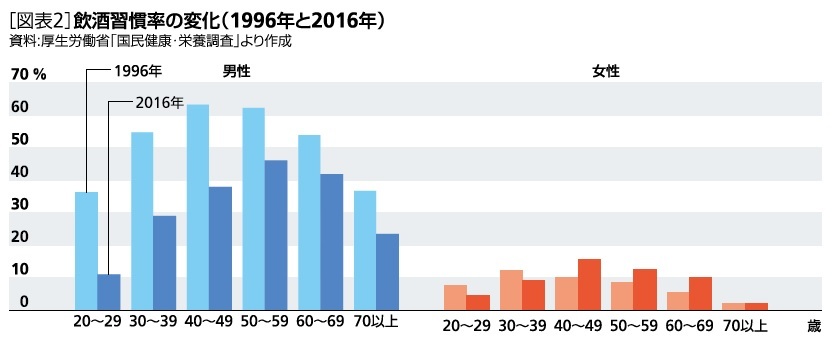 One reason for this change is that young Japanese people are concerned about their health. Generation Z youth tend to feel that the lifestyle of not drinking much alcohol or smoking is cool. In fact, I'm one person in this group.
When I was a college student, I was going to drink alcohol, but the day after the party I always felt bad about my hangover and I stopped drinking alcohol. Of course I don't smoke anything, and I like to drink coffee or green tea. If I had to pay a lot of money to drink very expensive whiskey, I would drink good quality orange juice.
But I can live like this because I work in an IT company. Usually IT companies don't do that much "Nomikai", but some sectors still do a lot of partying. If you want to work in Japan you should know this trend.
Companies that drink a lot of alcohol
Depending on the job the culture of making Nomikai changes, for example IT companies, particularly programmers do not tend to drink alcohol. That's why I researched an article on the ranking of Japanese companies that do a lot of Nomikai. Then I understood that these sectors make a lot of party.
「同僚との飲み会が多い会社」トップ100社 | 就職四季報プラスワン | 東洋経済オンライン | 経済ニュースの新基準
The construction sector
The headhunter sector
The international trade sector
The armies(Japan Self-Defense Forces)
The companies in this sector are the typical Japanese ones, and their way of working is almost the same as that of the Japanese armies. Honestly, I am not surprised that they drink a lot of alcohol because they are like soldiers. So don't think that all Japanese drink alcohol and sleep in the street, please. It all depends on the companies.
By the way, if they drink it without any lack of health, it's the freedom of each person. But in this country there is a terrible brand of alcohol.
This is Strong Zero.
Strong Zero: A drink for addicts
Strong Zero is a drink including the artificial sweetener and the very cheap Spirits. You can buy it wherever you want, and it only costs 200 yen/ 500mm (2 dollars). Therefore Japanese people who drink alcohol to forget all things of their hard life love Strong Zero.
But it is not a healthy drink, the amount of alcohol in a 500mm can is the same as 3.75 shots of Vodka. In fact when a doctor did an experiment with some people, and made people drink 3 cans of Strong Zero. Then the subjects of the experiment got drunk like crazy. It's already like an illegal drug.
Strong Zero's bad reputation is not only that. For example in a short novel "Strong Zero", the unhappy protagonist always drinks Strong Zero after getting up, she also drinks it after putting on her make-up. Already Strong Zero is a symbol of a broken life.
金原ひとみ「ストロング系は罪深き飲み物」 | 健康 | 東洋経済オンライン | 経済ニュースの新基準
In addition SNS users started to make meme called "Strong Zero Literature" to ironize about this hard society.
Do you have concerns about your life? You can forget everything if you have Strong Zero.
I give it to you, drink when you can't stand the anguish.
People who usually drink Strong Zero don't drink alcohol for fun, they drink it to forget everything. That's why it's not the fault of alcohol if there are many addicts in a country. This is the fault of poverty or disappointment.
Now there are Japanese people who don't drink alcohol and buy a juice that costs 5 dollars, but there are also people who pass out with Strong Zero for 2 dollars. You can notice that Japanese society is also very complex like your country. If you want to understand Japanese society, listen to the opinions of many Japanese people. My blog is an opinion of only one Japanese person. I hope you study about many topics to understand it more. Well, studying so much is hard, hahaha calm down, I have a Strong Zero. I give you a can.